I'm not usually a big fan of diet snacks, but when the nice people at
Linda's Diet Delites
offered to send me a few of their snacks to try, no strings attached, I couldn't resist. Yesterday my box of goodies arrived. My husband selflessly offered to help me test the products, so we had a little tasting party.
We had two flavors of Glenny's Brownies, the Chocolate Chip Blondie and the Peanut Butter Brownie. We cut them both in half so that we could each try both flavors with our afternoon coffee. When I opened up the brownie, the smell immediately reminded me of a Little Debbie's Fudge Brownie. The taste and texture are very similar, and so are the serving sizes. The Glenny's brownie was nice and fudgy, with a rich chocolate flavor. The difference is, the Glenny's brownie is a slim 2 points, and a Little Debbie's brownie just barely squeaks in at the high end of 6 points. Plus, the ingredients in the Glenny's brownie are mostly organic real foods:
Water, Organic Evaporated Cane Juice, Organic Cocoa, Organic Soy Flour, Organic Peanut Butter, Peanut Butter Chips, Organic Whole Eggs, Lemon Juice, Soy Fiber, Organic Wheat Gluten, Natural Chicory Root, Acacia Gum, Organic Egg Whites, Vinegar, Organic AA Butter, Salt, Xanthan Gum, Leavening, Natural Flavors
If you want a chocolatey snack, it's a good choice, especially for 2 points. The Glenny's brownie is much tastier than the
Hostess 100-calorie packs
, and contains better-quality ingredients. At $2.29 each, though, they are a little pricey. The blondie weighed in at only 1 point, but was not as tasty. We both noticed that the texture was a little off -- kind of rubbery. There weren't many chocolate chips, so the taste was sort of bland. I'd recommend choosing one of the brownie flavors instead.
As a bonus, we also got a few Gayle's Miracles candies in the box. The truffles are 30 calories and 1 gram of fat for a nice-sized piece. They were a little chewier than a typical truffle and had a nice, complex, fudge-like flavor. I loved both the dark chocolate and the cappucino, and my husband gave rave reviews to the chocolate raspberry. Two truffles are 1 point and they could definitely satisfy an intense chocolate craving.
Finally, we had a couple of salty snacks to try. They were the perfect thing to munch on while we did our Fantasy Football draft last night. The Spud Delites are just salty enough with a nice potato flavor. They remind me a little bit of Pringles, but they have a puffed shape. A 1.1-ounce serving is 2 points. I tried the Sea Salt flavor. The crisps are very tasty and would be a good snack to sneak into a movie. Again, the price is a little high, though not in comparison to concession stand snacks.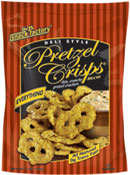 My very favorite item out of all the ones we tried were the
Pretzel Crisps
. They are sort of a combination between a pretzel and a chip. These aren't just good in comparison to other diet-friendly treats. They could stack up against just about anything in the snack aisle. At 2 points per serving, you wont' blow your diet if you're tempted to have more than the 10-11 crisp serving. The Everything flavor is nice and garlicky, with a toasty pretzel flavor and just the right amount of salt. And at a reasonable $3.29 for six servings, you might even consider sharing these. They'd be good with a low-calorie dip, but they have plenty of flavor on their own. (Weight Watchers has a version of these, but they are a little bland in comparison, and like all foods sold in meetings, they're very expensive.) I would definitely buy these again.
Overall, I found the Linda's Diet Delites site attractive and easy to navigate. They have a nice variety of products and provide package or product illustrations for all products. For some products, they provide photographs of the nutrition facts and ingredient lists, which are helpful to people with food allergies, or just people like me who don't want to eat foods with lots of high-tech ingredients. I would like to see these added for some of the other products, like the Glenny's Brownies. They do provide a selection of foods that are gluten-free, so adding information on other allergens might be a logical next step.

They also have a brick-and-mortar store in New Jersey, but traveling there to visit in person would be a little impractical for this girl from Toledo. If you go, tell them I said hello!